Proud to be IADA-Accredited
The International Aircraft Dealers Association (IADA) is an organization of top-tier aircraft brokerages/dealers. Respected as a leader in the development of standards for efficient and ethical business aircraft sales and acquisitions, the organization has a rigorous accreditation program for companies wanting to demonstrate their professionalism and industry expertise – the only program of its kind for aircraft brokerage/dealer firms.
"Congratulations Mike on Axiom's IADA full accreditation – well deserved! Axiom is a best in class organization. I am happy to see it recognized."
–Large National Bank, Aircraft Leasing Division
Among the First to Achieve Accreditation
Axiom Aviation was in the first group of IADA dealer firms to receive IADA accreditation. We pursued this certification of the company as a challenge to ourselves and a commitment to our customers. When you consider that of the 1,500 brokerage companies worldwide, fewer than 50 have been granted IADA membership, and that only a fraction of those respected organizations have earned accreditation, it is clear that Axiom is a company at the forefront of the aircraft sales industry.
It's also clear that Axiom Aviation is among the industry's top producers, as IADA members sell over 50 percent of the business aircraft in the world each year.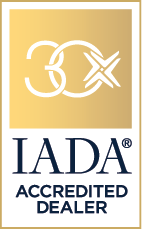 A Long History with IADA
& Maximized Return On Investment
Our relationship with IADA, formerly National Aircraft Resale Association (NARA), goes back more than 15 years. We believe it has been mutually beneficial, with IADA's and Axiom mutual core values of promoting ethical values, shared best practices and transaction expert team building for the benefit for our clients. The end result is that our clients are confident they can trust us to look out for their best interests and exhibit honesty and integrity in all our interactions with them.