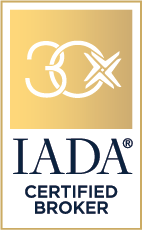 Andy Toy
President/Managing Partner
andy@axiomav.com
Andy's career in aviation started with taking flying lessons at a local Cessna Pilot Center where he received his pilot's license while in high school. He attended Florida Institute of Technology and received a bachelor's degree in Air Commerce Transportation Technology. In 1979, Andy was hired by Miller Aviation, a Cessna Pilot Center as a Flight Instructor and in 1982, became a training officer and check airman for Miller's FAR Part 135 Certificate.
In 1984, Andy entered the aircraft sales arena, selling Cessna's line of single-engine and high-performance multi-engine aircraft and received Cessna's "Take Command Sales Award." By 1998, Andy was Miller Aviation's senior salesman for Conquest and Citation sales. Responsibilities included evaluation of aircraft to purchase for inventory as well as managing the sales team.
From Flying Solo to a Mutually Advantageous Merger
In 1999, Miller Aviation merged with Corporate Wings and they started the Flight Options program. Andy was responsible for the acquisition and pre-purchase management of much of the original pre-owned fleet. During this time frame, well over 100 aircraft were purchased for the program and put into service. In September 2002, Andy formed Andy Toy Aircraft Sales specializing in the sale of quality pre-owned corporate jet and turboprop aircraft. Based out of Mentor, Ohio, the company provided aircraft sales, acquisition, consulting, appraisal and pilot services.
In February 2004, Andy merged his company with Aircraft Completion Management and formed Axiom Aviation. As President of Axiom, he is responsible for long-term strategic planning as well as management of aircraft sales operations.
A Recognized Leader in the Aircraft Industry
Andy has held leadership positions in a number of organizations including the National Aircraft Resale Association as a member of the Board of Directors. Additionally, he was Chairman of the Membership Committee responsible for drafting and implementing membership policies and procedures. He is also a member of the National Business Aviation Association, National Aircraft Finance Association, and the Aircraft Owners and Pilots Association. He also represented the Rochester New York Flight Standards District Office as an FAA Designated Pilot Examiner. With over 9,000 hours, Andy holds an FAA Airline Transport Pilot Certificate with Citation type rating and a Flight Instructor Certificate with Instrument and Multi-Engine ratings.